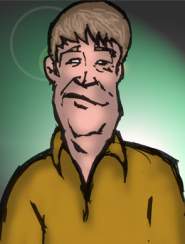 Tony Gallichan is Mildly Perturbed by... Fireworks
---
Mildly perturbed - actually, no, he's made FUCKING FURIOUS, by Fireworks.
I live in a war zone. No, really! Every day now, 24 - 7, come the sounds of explosions.
Loud explosions.
And I've had enough...
I can, I suppose, see why people celebrate November the fifth. It's a tradition dating back to the time of King James. But why do we allow the sale of explosives to people far too immature to handle them? The sale of fireworks is banned to children, and rightly so. But most of the people where I live are still too young to handle them at the age of 21.
THEY are the ones setting the fireworks off at all hours of the night.
THEY are the ones buying them and giving them to children to throw in the street.
A few years ago I was walking out of an underpass when a banger was dropped on me. Luckily I had time to react and move. Looking up I saw children laughing and lighting another fuse.
Nowadays Bonfire night lasts for around 2 and a half months.
And my cats are petrified. Absolutely terrified. They spend the days in hiding. One of them, the Bandit, sits behind a door, shivering.
I know of other animals just as frightened.
WHERE THE HELL DO WE, THE SUPERIOR RACE ON THE PLANET, GET OFF FRIGHTENING ANIMALS FOR OUR ENTERTAINMENT?
I won't mention bullfighting and fox hunting. As far as I'm concerned the people who indulge in those 'sports' are evil cunts who will suffer in Hell.
I'm going to try and start a campaign to have fireworks made illegal except for official displays, and the sale of fireworks to the public banned.
Expect more news about this soon...
Tony Gallichan is unwell...