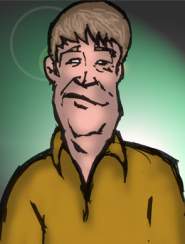 Tony Gallichan is Mildly Perturbed by... The Lost Prince
---
Oh dear.
Oh dear, oh dear, oh dear.
You see, I'm a cynical old git, really. It takes a lot to rattle me. Oh, certainly, I can get irritated quickly, but upset? Moi? The Judder Man? Naaaaah, surely?
Well, I'm afraid I did.
You see, I recently saw again the wonderful BBC drama called The Lost Prince.
What a fantastic piece of television it was. I simply cannot praise it enough. Everything works.
Brilliantly.
The lads cast as the young Prince John all acted superbly... hmm... I'm running out of superlatives already, lol..
Look, it made me cry, ok?
I really hate it when the telly does that to me. I'm a grizzled old moaner - i shouldn't be sat in front of the box, sniveling and sniffing.
It's not just The Lost Prince that's done that to me, oh no. The last episode of Babylon Five did the same - the bastards!
Heh, at least I know I'm not the only one. I know of one would be world dictator not so far away, who refuses to watch Sleeping In Light with anyone present.
So, there you are. I'm not the thick skinned Ogri that people think I am.
So there!
Tony Gallichan is aware this musing seems shorter then usual - your probably looking at it from a funny angle. Try sitting up straight, child! Posture!!
Don't forget that you can discuss this, even tell us your own stories, in the Musings: The Comeback Forum!