"Huffity, puffity, Ringstone Round,
If you loose your hat it will never be found,
So pull up your britches right up to your chin,
And fasten your cloak with a bright new pin,
And when you are ready then we can begin,
Huffity, puffity, Puff,
Huffity, puffity, Puff."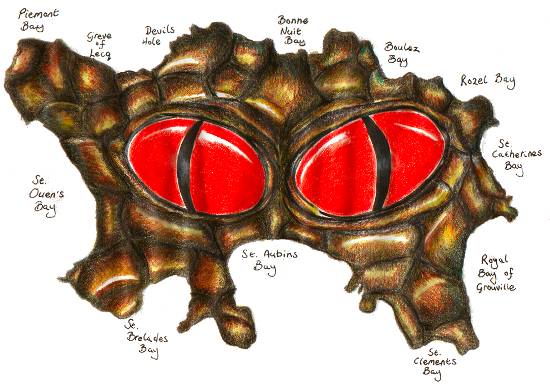 On the Channel Island of Jersey something is stirring. Introducing our heroes, oh, and Lord Macfadyan.
"I'd be a dog, a monkey or a bear, or anything but that vain animal who is so proud of being rational"

John Willmott
---
Listen to the Ghostwalker Audio Trailer (MP3)
(and if you liked it, listen to the Ghostwalker Music (MP3))
Also available, the Ghostwalker eBook (ePub)
This was originally a New Adventures submision by Karen Dunn and Tony Gallichan, its just been converted so that instead of featuring a wimpy, scottish gnome with his adolesant, unstable companion we have a bullish, egotistical prat with a floating head and kleptomaniac minx as companions.
The prologue and first chapter are as they were so..
Ghostwalker - plot, prologue and chapter one by Karen Dunn and Tony Gallichan.
Everything else by Tony Gallichan - so expect a rapid decline in prose style after the begining.
Note to Historians: Despite being set in the Channel Island of Jersey, this story does not feature Charlie Hungerford in any way shape or form. Not even his cigar!