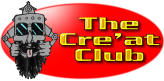 Put a Face to the Sound
---
Here's a simple but fun game, kiddies! All you have to do is look at the demented line-up below, listen to the bizarre noises and match them!
How to play: Click on either the 'Ogg Vorbis' or the 'MP3' for each listed sound. When you hear it try to guess which face spouted it forth.
To see the answer simply click the '< Show Answer >' under the question.
Adam

Andy

Keith

Kosh

Tony

Pertwee
Set #4
Set #3
Set #2
Set #1