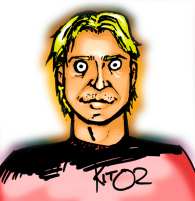 Kit Sivyer
---
| | |
| --- | --- |
| Name | Kit "aussie git" Sivyer |
| Age | Young. Very young. The bastard!!! |
| Status | (piss) Artist. |
| Size | Unknown. |
| Hairline | Yet again, unknown. Though it obviously stands on end as he lives upside down to the rest of us. |
| Position | Upside down. |
| Most likely to say | "Dude. Gday, Sport, Bruce, Sheila, Bonzer, Ill justy pop a shrimp on the Barbie, Bouncer." (well, he is an aussie so well forgive him). |
| Least likely to say | "limp biskit is the most talented band in the world" |
Let us get one thing clear from the start.
Kit Sivyer is an Australian. Somebody had to be we suppose.
He is also the youngest of us being a mere twenty one years old. The GIT!!
Born in a eucalyptus tree, Kit was nursed by a kangeroo who used to come and tell him that little Randy had fallen down the well, or fallen down a ravine or had been knocked down. Kits advice was to dump the looser. If he couldn't go out safely then Kit and the kangeroo just simply shouldn't bother.
Kit's an artist - its his work that you see on the site. He was found by George Macfadyan when George was on a humanitarian visit to the colonies, er, to Australia.
No, Kit does not know Kate Orman, though he has got a crush on Janeane Garofalo, a fact that he has asked not to be revealed here.
Oh.
Oh dear.
Whoops.
Oh well, too late. Sorry cobber.
Kit can be contacted for commissions at... kitsivyer@optusnet.com.au