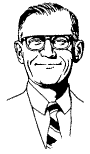 George Macfadyan
---
| | |
| --- | --- |
| Name | George Macfadyan |
| Age | 53 |
| Status | The guvnor. |
| Size | Deceptive. |
| Hairline | Interesting. Garibaldi Rating... "Season Two". |
| Position | Didn't we already mention that he's the boss? |
| Most likely to say | "You've all done very well." |
| Least likely to say | Well, anything really. |
| Email | |
George Macfadyan was born in 1948 in the small town of Stockbridge, Wessex.
He had a public school education that he still refuses to talk about. Forced in to the army he managed a short term commission then went to Cambridge where he helped out with the Footlights review. It was whilst working there that he came into contact with the ledgendary artist and philanthropist, Ferdinand de Bargos. After that, George's life changed dramatically. He started the now famous Macfadyan Publishing.
It was whilst walking through Soho that he chanced upon the then down and out Tony Gallichan. He offered Tony the chance to edit one of his magazines, a little known Tavernzine called 'Dreadfully Written Bullshit'.
Tony made a success of this and the Dr. Who output of Macfadyan Publishing was assured. George was even named as the new producer of Dr. Who in 1991 as he had bought the rights to the series. However, on the advice of Tony Gallichan he passed them onto another of his protégés, Phil Segal.
Since then, George has been heavily involved in charity work that he doesn't like to talk about.
This website is George's first foray into the World Wide Web of fear and he is very pleased with Macfadyan Publishing's chief scientists work in putting it together.
Staggering Stories is hoping to be able to arrange a chat with George for everybody sometime in the future and, if he can find the time, we will try to interview him.
Keep 'em peeled!!